Navigation >> Home >> Breed Community Pages >> Basset Hound >> Puppies for Sale
Basset Hound
Puppies For Sale
See our Basset Hound Puppy Buyer Information
before choosing a breeder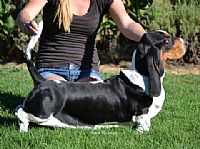 CAN-OUI
Contact :
Lynn Bevan
Location :
Hamilton
NZ
Ph :
07 825 4595
Email :
Send Email
Web :
http://www.bassets.co.nz
Pups will be ready for their new families from May 2nd
Tri-Coloured boys and Girls available.
At Can-Oui Kennels we breed for health, soundness and fantastic temperaments. Raised in our home with lots of love and our full time attention. These pups are from TOP winning New Zealand, Canadian and UK bloodlines, which include Crufts Best of Breed winner for several years running, NZ Grand Champion and FCI International/Multi Countries Champion.
They will have had their first vaccinations, been regulary wormed, flea treated, vet checked, microchipped, New Zealand Kennel Club registered and will come with a puppy pack & 6 weeks free insurance. Our babies are well socialised and used to being handled. We are always available for friendly ongoing support and my babies are welcome back for holiday boarding.
Basset hounds like most dogs need a secure fenced section. They are social dogs that thrive on company, including other pets and make the most wonderful family additions. Our dogs are used to living with cats and alongside sheep, horses and cattle.
Please phone or email us and visit our website. We are always happy to answer any questions and welcome visitors to meet our happy hounds.
www.bassets.co.nz
Photo of older Sister (14 mths)
Last updated 22-Apr-13
KAUTUNKA
Contact :
Donna & Vicki jackson
Location :
Gherang/modewarre
VIC
Ph :
03 52662073
Email :
Send Email
We have boys and girls to choose from
lovely tri colour puppies
microchipped ,,981000300605427,,,981000300607590,
,,981000300607493///981000300603379,,,,
981000300603170,,,,
parents on veiw
they are vet checked,, microchipped ,,health checked ,,wormed,,
vaccinated,,
and come with full main registerd pedergree papers with VCA
dogs victoria
also puppy kit
contact Vicki or Donna 0352662073
or email for more details
bgillett@iprimus.com.au donnajackson777@hotmail.com
Last updated 7-May-13
Page 1 of 1 pages
* Disclaimer : The above puppy listing has been produced with information supplied in good faith by registered members of this site. Dogz Online Pty Ltd takes no responsibility for the accuracy of the information provided or the quality of any breeder listed. It is up to you as the prospective purchaser, to verify any claims made before entering into a transaction.

The use of the Blue Ribbon or Red Ribbon image against a listing should not be used as a symbol of a breeder's quality. The ribbon image is used purely to identify the membership level the breeder has paid for on the site.
All content copyright Dogz Online Pty Ltd © 2013
Privacy Policy | Web Site Terms and Conditions