Navigation >> Home >> Breed Community Pages >> Bichon Frise >> Puppies for Sale
Bichon Frise
Puppies For Sale
Page 1 of 1 pages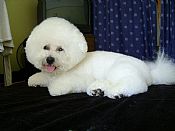 FLAIR
Contact :
Averil & Dave Ross
Location :
30 Doncaster Street Washdyke Timaru
NZ
Ph :
03-688-7397
Email :
Send Email
Web :
http://www.Flairkennels.co.nz
One male pup 5/4/2014 ready now vaccinated, wormed, blanket, toy and booklet selling on behalf of.
Last updated 21-Jun-14
SILVERYMOON
Contact :
Josephine Vella
Location :
Smithfield
NSW
Ph :
0413 056 197 (02) 9711 9907
Email :
Send Email
Web :
http://silverymoon.weebly.com/
Male and Female pure bred Bichon Frise Puppies born 16.7.2014 are available.
Will be wormed, vaccinated, microchipped, vet examined, groomed, and toilet training will be well underway by the time of rehoming. Puppies are registered with Dogs NSW.
Our puppies are raised within a family environment. They are well socialised, as they are always around people.
Our bloodlines have been carefully selected to ensure true to the breed, quality Bichon Frise puppies.
Safe interstate transport can also be arranged if required.
For all enquiries please call Josephine on (02) 9711 9907 or 0413 056 197
Last updated 17-Jul-14
JASMINEROSE
Contact :
Moira Lescuyer
Location :
Wetherill Park
NSW
Ph :
0419 144 188 or (02) 97571146
Email :
Send Email
Web :
http://www.expflowers.com/bichonfrise.htm
Jasmine Rose has 2 male pups & a female pup born on the 23/6/14.
They can be adopted out in 2 months time. Our pups are micro chipped, vaccinated, wormed, vet health checked. Pups are registered with Dogs NSW to show their pedigree. We toilet train & get them use to being washed/groomed & are well socialised with children/adults. Puppy information kits provided. Safe interstate transport can be organised.
Please contact me for further details.
Last updated 24-Jun-14
YENDALE
Contact :
Phillip Brockway
Location :
Cooranbong
NSW
Ph :
0448773255
Email :
Send Email
Web :
http://www.yendale.com/
Hi I have female and male Bichon Frisé puppies available. Deposits being taken pups ready in six weeks. They are vaccinated wormed, micro-chipped, vet checked before pups leave here. Contact me for more information.
My pups are brought up in my home not in kennels so they are what I say as being humanised as I play with them very often as I am retired. They are toilet trained and are also eating well.
I show my dogs so these pups are from excellent breeding. The puppies come with their registered pedigree.
Also expecting more pups so if you want to place an order am taking small deposits.
Cheers,
Phillip
Last updated 18-Jul-14
Page 1 of 1 pages
* Disclaimer : The above puppy listing has been produced with information supplied in good faith by registered members of this site. Dogz Online Pty Ltd takes no responsibility for the accuracy of the information provided or the quality of any breeder listed. It is up to you as the prospective purchaser, to verify any claims made before entering into a transaction.

The use of the Blue Ribbon or Red Ribbon image against a listing should not be used as a symbol of a breeder's quality. The ribbon image is used purely to identify the membership level the breeder has paid for on the site.
All content copyright Dogz Online Pty Ltd © 2014
Privacy Policy | Web Site Terms and Conditions