Navigation >> Home >> Breed Community Pages >> Miniature Pinscher >> Puppies for Sale
Miniature Pinscher
Puppies For Sale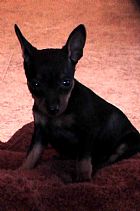 MELKA
Contact :
Andrea Tansey
Location :
Kaikohe
NZ
Ph :
09 4010074
Email :
Send Email
Web :
http://www.melka-kennels.com
Dam:NEW ZEALAND CHAMPION EMMA-LEE OF MELKA
SIRE:NEW ZEALAND CHAMPION MELKA MIKI
5 BLACK AND TAN BITCHES BORN 24TH MARCH 2013
SIRE: NZ CHAMPION MELKA MIKI
DAM:NZ CHAMPION I -AMA SUPA STAR OF MELKA
2 BITCHES 2 DOG BLACK AND TAN BORN 8TH APRIL 2013
ALL PARENTS ARE HEALTH TESTED BEFORE BREEDING
MY DOGS ARE SHOWN IN BOTH NEW ZEALAND AND AUSTRALIA WITH GREAT RESULT
Last updated 11-May-13
SHIRALEA
Contact :
Lynne Johnston
Location :
Mount Gambier
SA
Ph :
08 87 387 287
Email :
Send Email
Web :
http://www.shiralea.com.au
ONLY 2 PUPPIES LEFT from Litter of 4 red girls born 12th April to Ch. Shiralea Virgin Blue "Genie" and Aust. & NZ Champion Panache The Song And Dance Man (Imp NZ) "Fred". ready to go not before 7th June. Will be registered with DOGSSA, vet checked, vaccinated with first C5 (full cover not part) Microchipped, booklet on care, training tips, history and standard of the breed, dangers around the home and garden, regular pics as they develop and much more. Parents and pedigrees on view, welcome kennel inspection and environment of puppies, well loved and socialised. Phone or email for more details, happy to talk to genuine enquirers.
NEW LITTER: bORN 6/5 3 Black and Tan males only. Sire Grand Champion Panache Strike Up The Band (Imp NZ) Dam: Marlau Check Me Out.
Ready to go lst week in July. Genuine enquiries only. No other colour or sexes available other than listed here.
Last updated 23-May-13
ACORTE
Contact :
Acorte
Location :
Horsham
VIC
Ph :
0409 765 356
Email :
Send Email
****************************************
Available shortly red male puppy.
9781210078229
****************************************
Last updated 18-May-13
YARROWFELL
Contact :
Philippa Hurst / Morgan Harvey
Location :
Wanniassa
ACT
Ph :
02 62965359
Email :
Send Email
Indy (Batpin Indigo Girl) has been mated. Puppies due early June.
We expect black/tan and chocolate/tan babies in this litter.
Puppies will be vaccinated, wormed, microchipped and come with a full health check and 6 weeks free pet insurance. Transport interstate available.
Although a successful show kennel we also pride ourselves on having the only Dual Ch Miniature Pinscher and having dogs with titles in Obedience, Rally-O and Flyball.
Our dogs are also used in film and TV work.
Please email me for more details.
Last updated 6-May-13
MINAPEKE
Contact :
Edie Turnbull and Gloria Cincotta
Location :
Horsham
VIC
Ph :
0353812383
Email :
Send Email
Web :
http://www.minapeke-miniaturepinschers.com/
Red Male Puppy Date of Birth 28/10/12
Microchip No 978102100055294
Limited Registration No Breeding/Showing
Vaccinated
Wormed
Vet Checked
Realistic Price to family forever home
Genuine enquiries Only
We Do Not Send Interstate
Email enquiries Only Thank you
cinturn@wimmera.com.au
Last updated 8-May-13
Page 1 of 1 pages
* Disclaimer : The above puppy listing has been produced with information supplied in good faith by registered members of this site. Dogz Online Pty Ltd takes no responsibility for the accuracy of the information provided or the quality of any breeder listed. It is up to you as the prospective purchaser, to verify any claims made before entering into a transaction.

The use of the Blue Ribbon or Red Ribbon image against a listing should not be used as a symbol of a breeder's quality. The ribbon image is used purely to identify the membership level the breeder has paid for on the site.
All content copyright Dogz Online Pty Ltd © 2013
Privacy Policy | Web Site Terms and Conditions