Navigation >> Home >> Breed Community Pages >> Shih Tzu >> Puppies for Sale
Shih Tzu
Puppies For Sale
Page 1 of 1 pages
LAWRENZU
Contact :
Barry & Marjorie FAIR
Location :
Waroona
WA
Ph :
0408 889 094
Email :
Send Email
Web :
http://www.lawrenzu-shihtzu.com
Here at Lawrenzu Shih Tzu we are expecting a litter of puppies Mid December, Mum is Alseezu Maid of Honor and dad is Nevohne Love me True. All interested enquiries please phone Barry or Marjorie on 0408889094.
Last updated 5-Dec-13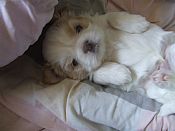 CARAGLEN
Contact :
Carolyn Pemberton
Location :
Tauranga
NZ
Ph :
07-5525195
Email :
Send Email
Web :
http://www.freewebs.com/caraglenshihtzu/
Emma (Caraglen's Vanilla n Cream) has produced 4 babies that duplicate her colour exactly.
Fawn and Cream.
These babies have a very very different colour to most just like her mother. They look like they will have the same colour as their great grandfather, Kino the Ring Master.
I look forward to seeing them develop and their fawn colour come out in their adult coat.
The single female has gone to her new home, as has one of the males. these babies are beautifully marked
Last updated 25-Nov-13
ALSEEZU
Contact :
Dave & Therese Delaney
Location :
PO Box 135, Boyanup
WA
Ph :
0897315396 or 0408895025
Alseezu Shihtzus have been blessed with 5 lovely puppies by their NZ Ch Denem Heezasupatrooper. Very impressive puppies, lovely show potential. 4m, 1f gold/white and red/white. These puppies will be microchipped, vaccinated, flea and wormed and come with Registration. Give Therese or Dave a ring after 6pm to order your puppy.
Last updated 19-Nov-13
TARRYHOMETZU
Contact :
Joy Ems
Location :
Rosewood
QLD
Ph :
0466 348 168
Email :
Send Email
Web :
http://sites.google.com/site/joyzowntzus/
Fascinating markings are the feature of this litter. Princess (tricolour)is 'stripy' yes, stripy??!A 'mask', 'collar', 'saddle' & 'bottom spot'…the cutest I've ever seen! She is a real 'talker' & a real 'go getter'! Sweet Dorothy Dot (tricolor) has little brown & black spots on her white back. Trusty Toby is my only dark solid... my dark pups lighten up, Lipizzaner style, 2b light golden cream or silver as adults (Mum silver). Toby is our explorer & wriggles & climbs over the impossible to get to his Mum, or is it his milk? Tricolour Tina is the smallest of the litter but certainly not a runt. Tina is very laid back; I love the pirate patch look, don't you? The white side of Tina's face has a spot over her ear. Peaceful Percy is the sweetest natured boy, relaxed and easy going! Mostly black & white although officially a tricolor as has a touch of brown. Kute Katrina is a cuddly poppet, who loves to snuffle up close & smell what you had for dinner. Katrina has a beautiful face with a perfectly symmetrical mask! I wish I could keep them all! Both Mum and Dad live with us as part of the family & have gorgeous personalities. Pups are the center of our busy household and have been cuddled, loved & held from birth.
Born 9/11/13, ready to go on 4/01/14! Will be registered, vaccinated, vet checked, micro chipped etc. Waiting list open now. Ph 0466348168 /email joyzownytzu@gmail.com No time wasters/price neg; but happy to help real Tzu lovers. See http://joyzowntzus.blogspot.com.au/
Last updated 25-Nov-13
SHUMAR
Contact :
Sue Thureson
Location :
Sunshine Coast
QLD
Ph :
0410729215
Email :
Send Email
I have a beautiful male gold and white DOB 16 Oct. Enquiries email or phone 0410729215
Last updated 30-Nov-13
ERINTOI
Contact :
John Sheppard
Location :
Hamlyn Terrace
NSW
Ph :
02 43926483
Email :
Send Email
ERINTOI have female puppies now available to permanent pet homes.They have been vaccinated, wormed and microchipped.
They are gold/white with black tippings with excellent personalities.
Contact John for further information.
NO TIME WASTERS PLEASE.
Last updated 5-Dec-13
Page 1 of 1 pages
* Disclaimer : The above puppy listing has been produced with information supplied in good faith by registered members of this site. Dogz Online Pty Ltd takes no responsibility for the accuracy of the information provided or the quality of any breeder listed. It is up to you as the prospective purchaser, to verify any claims made before entering into a transaction.

The use of the Blue Ribbon or Red Ribbon image against a listing should not be used as a symbol of a breeder's quality. The ribbon image is used purely to identify the membership level the breeder has paid for on the site.
All content copyright Dogz Online Pty Ltd © 2013
Privacy Policy | Web Site Terms and Conditions