Navigation >> Home >> Breed Community Pages >> Shih Tzu >> Puppies for Sale
Shih Tzu
Puppies For Sale
Page 1 of 1 pages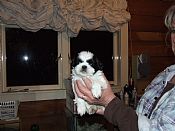 CARAGLEN
Contact :
Carolyn Pemberton
Location :
Tauranga
NZ
Ph :
07-5525195
Email :
Send Email
Web :
http://www.freewebs.com/caraglenshihtzu/
A beautiful litter of babies. Black and white and gold and white, and Apricot and White. All beautifully marked.
From sire NZ CH Caraglen's All I Want is U and Dam Caraglen's It's All About Me.
Babies available to show or pet homes
Please contact me for further information on 07 5525195 or 021510113
Please note to Australian people, it will cost at least 1000.00 for flights, plus registration (NZKC) and other applicable costs to get a puppy to Australia.
For NZ interested people, I have pet puppies in this litter who will be available on the NZKC pet register.
Last updated 19-Sep-14
ALSEEZU
Contact :
Dave & Therese Delaney
Location :
PO Box 135, Boyanup
WA
Ph :
0897315396 or 0408895025
Alseezu Shihtzus are expecting two litters in Nov and Dec. If you are interested in booking a puppy, please give Therese a call after 6pm. These puppies are both from good lines and lovely natures. Alseezu puppies come with a 100% guarantee that you are buying only the best.
Last updated 20-Oct-14
SAMLHAMO
Contact :
Jeangodfrey
Location :
Adelaide
SA
Ph :
0885222427
Email :
Send Email
Samlhamo has alitter of puppies born 18 -10 14 from good blood lines if people are intersted and want to book a puppy they can contact me on 0885222427 or email samlhamo@bigpond photos coming soon
Last updated 22-Oct-14
MACARDO
Contact :
Julie Hyland
Location :
Gold Coast.
QLD
Ph :
0409055708
Email :
Send Email
TWO STUNNING LITTLE GIRLS AVAILABLE
1 x GOLD AND WHITE
1 x LIVER AND WHITE
THESE LITTLE GIRLS WERE HAND REARED WITH HEAPS OF LOVE AND CUDDLES
THEY HAVE WONDERFUL LITTLE PERSONALITIES
THEY WILL BE VACCINATED, WORMED, MICROCHIPPED, VET CHECKED AND THEY COME WITH PEDIGREE
(DOGS QLD)
THESE LITTLE GIRLS WILL BE AVAILABLE IN TWO WEEKS TO FOREVER LOVING HOMES
I BRED BOTH SIRE AND DAM TO THESE BABIES
PLEASE NOTE: In pic the two girls are middle and right
APPROVED REGISTERED BREEDERS LICENCE NUMBER: PBB7563420
I am happy to answer any questions about the babies but I will not answer text messages, emails and no Caller Id
Last updated 29-Oct-14
KHYLEINI
Contact :
Janice Hellessey
Location :
Hobart
TAS
Ph :
0458 667528
Email :
Send Email
Web :
http://www.freewebs.com/khyleinishihtzu
I have an adorable Black and White male puppy.
Looking for that special home , he is very outgoing and happy puppy. A very good pedigree from Imported bloodlines . photos and video available .
Interested parties only to contact me 0458 667 528 if phone is unattended please leave name and contact number .
Thanks Janice
Last updated 31-Oct-14
Page 1 of 1 pages
* Disclaimer : The above puppy listing has been produced with information supplied in good faith by registered members of this site. Dogz Online Pty Ltd takes no responsibility for the accuracy of the information provided or the quality of any breeder listed. It is up to you as the prospective purchaser, to verify any claims made before entering into a transaction.

The use of the Blue Ribbon or Red Ribbon image against a listing should not be used as a symbol of a breeder's quality. The ribbon image is used purely to identify the membership level the breeder has paid for on the site.
All content copyright Dogz Online Pty Ltd © 2014
Privacy Policy | Web Site Terms and Conditions