Navigation >> Home >> Breed Community Pages >> Weimaraner >> Puppies for Sale
Weimaraner
Puppies For Sale
Page 1 of 1 pages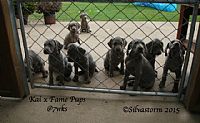 SILVASTORM
Contact :
Andrea McInroe
Location :
West Coast
NZ
Ph :
03 7323119
Email :
Send Email
Web :
http://www.silvastorm.com
Celebrating 25 years of being owned and loved by Weimaraners in 2015!
Very proud to announce this quality litter of 9 pups from an AI mating. First time advertised now we have sorted out what pups are heading off on their show careers.
Sire: "Kai" Multi Int CH Kolata's Surfers Paradise (USA)
Dam: "Fame" BISS NZ CH Weisup On Fire at Silvastorm [NZ CH One In A Million Imperium Star (IMP POLAND) x NZ CH WeatherRun N Weisup Fyrdwnundr (IMP CANADA)]
Fame won "BEST IN SHOW" at the Annual NZ Weimaraner Specialty 2013 - 43 entries under Breed Specialist Mr Simon Mills - Australia, also she is a Multi Age In Group winner from limited showing.
Our puppies are raised in the family home and exposed to other dogs, horses & children as well as many other things which has made them the Biddable, Happy, Well Rounded & Outgoing. They have been exposed to Duck wings/deer skin etc to test their natural hunting instincts. We have shot over the pups with a 22 shotgun already and all pups were fine, none were worried!
Tails have been Banded by an Accredited Bander and Dew Claws removed. The pups have had their first vaccination and have been regularly wormed. These pups are all registered with the NZKC
Puppies come with a Royal Canin Puppy Pack & Food, Blanket and toys plus a Puppy folder with photos & follow up.
No problems to ship domestically within NZ or Australia etc
Avaliable March 3rd 2015 onwards - 3 boys available ( on Restricted Register -to their Forever homes).
Last updated 3-Mar-15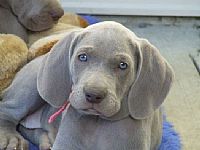 WEISUP
Contact :
Debbie Meyrick
Location :
Wellington
NZ
Ph :
04 973 1640
Email :
Send Email
Web :
http://www.weisupweimaraners.com
Weisup is proud to announce the arrival of 7 beautiful babies with a pedigree to die for. Quality puppies with great tempraments. NZ Ch Weatherrun N Weisup Fyr Dwn Undr (Imp Can) & Am Gr Aust Gr Ch Graytskys Smokin in Havana - Weisup Weimaraner Breeder of the Year 2014 - Weimaraner Show Dog of the Year NZ Ch Weisup Grand Performance - Winner and Breeder of Weimaraner Show 2013 - 2014 - Pups 7 weeks old will be available from the 15th March 15 - Tails and dew claws removed by accredited docker. Shipping can be arranged. Enquiries welcome
Last updated 10-Mar-15
SINAWAY
Contact :
Caron Hill
Location :
Wallacia (near Penrith) Sydney
NSW
Ph :
0415434873
Email :
Send Email
Dogs NSW Member 2000255310
BEAUTIFUL WEIMARANER BABIES EXPECTED SOON
Sinaway Weimaraners is proud to announce (after a long wait) that I have babies due soon. All shorthairs expected. Ready to leave early May (approx.).
Proudly Life Member of Dogs New South Wales and member of the Weimaraner Clubb of NSW, babies will be vaccinated, microchipped and regularly wormed and vet checked prior to leaving. Pets registered on Limited register (not for breeding or showing)with Dogs NSW. Ethical and dedicated breeder of 30 Show champions over 33 years.
Please contact Caron Hill
for information on the babies. Always happy to discuss if a Weimaraner is the right choice for you. They don't suit everyone!
Please phone 0415434873. If unanswered I will return your call ASAP.
Thanks Caron
Last updated 7-Mar-15
GRISWOLD
Contact :
Louise Biczo
Location :
Wherrol Flat
NSW
Ph :
02 65507310
Email :
Send Email
Web :
http://www.griswoldkennels.com
Dogs NSW Member 2000617330
Griswold Weimaraners Est 1972.Is Expecting S litter due 10/04/2015
Confirmed in whelp by ultra sound.
Sire. Ch Griswold Ozzionline
Dam. Griswold Pharst Zeva.
Consistently breeding for conformation, health, and temperament,
for the all-round family pet, show or obedience dog.
Pups will be raised in a loving family environment, wormed every 2 weeks from birth,
registered with Dogs NSW, Vet health checked, Vaccinated, micro chipped,
and come with a complete information folder.
All enquires welcome. Call Louise 02 65507310 or louise@griswoldkennels.com
Last updated 8-Mar-15
BESKO
Contact :
Ian Besko
Location :
Klemzig
SA
Ph :
08 82617954
Quality show and working puppies from proven bloodlines are available
Vaccinated, microchipped and fully Vet checked.
Registered DOGS SA breeder and Foundation Member of SA Weimaraner Club & Retrieving and Field Trials Club of SA
Sire: Grand Dual Champion (Retrieving) Besko Th Red Baron
Dam: Ch Greywei Manhattan Transfer
All enquiries welcome to Ian Besanko, Kelmzig, South Australia
Phone 08 8261 7954 Please leave a message and I will give you a call back
Last updated 18-Feb-15
Page 1 of 1 pages
* Disclaimer : The above puppy listing has been produced with information supplied in good faith by registered members of this site. Dogz Online Pty Ltd takes no responsibility for the accuracy of the information provided or the quality of any breeder listed. It is up to you as the prospective purchaser, to verify any claims made before entering into a transaction.

The use of the Blue Ribbon or Red Ribbon image against a listing should not be used as a symbol of a breeder's quality. The ribbon image is used purely to identify the membership level the breeder has paid for on the site.
All content copyright Dogz Online Pty Ltd © 2015
Privacy Policy | Web Site Terms and Conditions