Navigation >> Home >> Breed Community Pages >> French Bulldog >> Puppies for Sale
French Bulldog
Puppies For Sale
Page 1 of 1 pages
KAITAKE
Contact :
Marea Faigan
Location :
New Plymouth
NZ
Ph :
0274 420042
Email :
Send Email
Web :
http://gprollo.wix.com/kaitakefrenchbulldog
We have 1 x brindle male available to an approved pet home
he will be ready to go the first week of Nov (9 weeks old)
Still waiting for his ears to come up but he is a gorgeous cruisey wee man
Mum and dad both have excellent health
NZ Only (please don't ask this is not negotiable)
Pet only
Genuine NZ Pet enquiries welcome
Last updated 20-Oct-14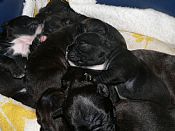 YOBBIES
Contact :
Laurel Newhook
Location :
North Island
NZ
Ph :
027 212 6064
Email :
Send Email
Brindle, Dark Brindle, Black Brindle and pied male pups available.
Seven pups in total.
Chubby babies, all doing very well.
Will fly overseas at puppy buyers expense.
Last updated 21-Oct-14
MINIBULLIES
Contact :
Debbie Carlisle
Location :
Waikato
NZ
Email :
Send Email
Here at Minibullies we have two beautiful healthy litters of French bulldogs.
We have 3 boys and five girls. We have pied and brindle puppies available to loving homes.
Puppies are ready to go to their new homes on 1 December and 6 December.
Enquiries are welcome on dendeb73@yahoo.co.nz.
Please make your initial inquiry via email.
All puppies have deposits on now.
Last updated 8-Nov-14
GUNSLICK
Contact :
Helen Cook
Location :
Tirau
NZ
Ph :
072120908
Email :
Send Email
Gorgeous litter of French bulldog Pups D.O.B 11/11/14
Only boys left.
Pups are raised in a smoke-free home, Own room, are well socialised, will be thoroughly vet checked and start vaccinations, wormed, de flead and micro chipped.
Happy to export.
Full NZKC registration
Feel free to enquire further for information and pictures.
Last updated 17-Nov-14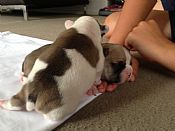 SHAFEAR KENNELS/ORDAIN
Contact :
Ordain Shafear Kennels
Location :
Auckland
NZ
Ph :
0211464434
Email :
Send Email
Web :
http://www.ordainshafearkennels.com
2 x Fawn Pied Dogs available for their forever homes, beautiful markings.
Please call as we are on a farm and not always near email.
09 416 0536 or mob 0211464434
Last updated 26-Nov-14
MICHSTEVE
Contact :
Michele Gough
Location :
Calliope
QLD
Ph :
0439418010
Email :
Send Email
Five healthy,happy puppies born 12/11/14. Three boys, two girls. Will be Vet checked, needles and micro chipped. Both parents Australian Champions.
Will be on full register with Dogs Queensland.
I am a registered breeder and have been showing Frenchies for seven years. I only breed when I want a new dog to run on, I will be retaining one pup from this litter.
Ready for their new homes the second week in January 2015
Sire Strongjean Rock My Jocks
Dam Michsteve Dream Maker
Last updated 28-Nov-14
MOONGLADE
Contact :
Karen Peek
Location :
Caboolture
QLD
Ph :
0424393348
Email :
Send Email
Web :
http://www.moongladestud.com
WE HAVE AVAILABLE 2 MALE PUPS, 1 FAWN AND 1 BRINDLE
THEIR SIRE IS AUST.CH.PARROGUES PIERRE SEIRZY AMD DAM IS ROYAL SHOW WINNER VIVALEBULL BELLE DE JOUR.
THEY HAVE BEEN TESTED FOR DEGENERATIVE MYELOPATHY,CANINE HYPERURICOSURIA, CANINE MULTIFOCAL RETINOPATHY 1, CYSTINURIA,HEREDITARY CATARACT AS WELL AS COLOUR TESTED.
SIRE HAS BEEN X RAYED FOR HIPS SPINE AND ELBOWS.
THEY COME MAIN REGISTERED.
Last updated 29-Nov-14
Page 1 of 1 pages
* Disclaimer : The above puppy listing has been produced with information supplied in good faith by registered members of this site. Dogz Online Pty Ltd takes no responsibility for the accuracy of the information provided or the quality of any breeder listed. It is up to you as the prospective purchaser, to verify any claims made before entering into a transaction.

The use of the Blue Ribbon or Red Ribbon image against a listing should not be used as a symbol of a breeder's quality. The ribbon image is used purely to identify the membership level the breeder has paid for on the site.
All content copyright Dogz Online Pty Ltd © 2014
Privacy Policy | Web Site Terms and Conditions