Navigation >> Home >> Breed Community Pages >> French Bulldog >> Puppies for Sale
French Bulldog
Puppies For Sale
Page 1 of 1 pages
BUFFALOBULLY
Contact :
Dirk Podro
Location :
Sydney
NSW
Ph :
0414378335
Email :
Send Email
20 years of experience with the bred, 24/7 help and advice.
pups are now 1 week old and will be on the main register, vet checked, chipped and come with a puppy pack.
for more info and to put a deposit on one of these lovely pups call Dirk on 0414378335
NO TX MESSAGES NO EMAILS !!!!
1 pied male available
Last updated 3-Dec-13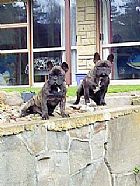 FUNKYMONKEY KENNELS
Contact :
Justine Durbin
Location :
Te Aroha
NZ
Ph :
0272915151
Email :
Send Email
welcome to funkymonkey kennels:
we have 7 cute healthy pups for sale
5x brindle n fawn brindle boys with white marks on chest$3500.00
2x Girls SOLD $3500.00
Dam : Toujours womble on
Sire: lebeaudem back on track
All puppies will have NZKC papers, have been wormed, Nails trimmed every 2 weeks, vet checked and First vaccination.
We require a deposit of 10% to secure your puppy and the balance prior to shipping/ collection.
National shipping is not a problem.
Any questions please feel free to call or txt or email.
Last updated 3-Nov-13
ELEVAGE
Contact :
Lyn Mcphail
Location :
Geelong
VIC
Ph :
0414467716
Email :
Send Email
Black sabbath is available for sale. He is 9 months old.
His price is $3500 firm.
He is registered with Dogs Vic so comes with pedigree papers.
Sabby will be desexed before leaving to go to his new forever home.
He has the best temperament and loves to show off. A very handsome little man.
He is lead and house trained and a delight to have around.
Mc: 900012001009626
Please call Lyn on 0414 467 716 or email me lynmcphail@bigpond.com
Last updated 25-Nov-13
ORDAINED
Contact :
A Wilson
Location :
Auckland
NZ
Email :
Send Email
Brindle and Pied pups available. There is one brindle girl but we are not sure if we will retain her.
Raised in a family environment with cats and children.
Please email in first instance.
Last updated 28-Nov-13
TUFSTEEN
Contact :
Paul and Mandy
Location :
Ross Creek
VIC
Email :
Send Email
Web :
http://www.tufsteenkennels.com
We have two beautiful girls available to only the very best of homes.
Please email for an information sheet and please tell us about yourselves.
We will not respond to one line emails.
These girls are looking for a pet home.... No show are breed inquiries.
Microchip 95600000****170
95600000****407
Last updated 4-Dec-13
PARROGUES
Contact :
Phil Martin
Location :
Central Coast
NSW
Ph :
0423947988
Email :
Send Email
Web :
http://www.parrogues.com.au
Male Brindle french bulldog Puppy for sale to a pet home.
He comes with:
upto date worming
Vaccination
Microchip
vet checked & desexed
Price is $3600
I welcome all serious buyers to my home to meet.
I am located on the NSW central Coast and will freight oz wide at buyers expence.
I do both DNA & X-ray health checks on my dogs
Both Aussie and international champions in my lines,I am happy for people to buy from me to show. I breed for Quality not quantity for both pets and future show/breeders.
I have another litter due soon (expression of interest taken)
Last updated 22-Nov-13
Page 1 of 1 pages
* Disclaimer : The above puppy listing has been produced with information supplied in good faith by registered members of this site. Dogz Online Pty Ltd takes no responsibility for the accuracy of the information provided or the quality of any breeder listed. It is up to you as the prospective purchaser, to verify any claims made before entering into a transaction.

The use of the Blue Ribbon or Red Ribbon image against a listing should not be used as a symbol of a breeder's quality. The ribbon image is used purely to identify the membership level the breeder has paid for on the site.
All content copyright Dogz Online Pty Ltd © 2013
Privacy Policy | Web Site Terms and Conditions