Navigation >> Home >> Breed Community Pages >> French Bulldog >> Puppies for Sale
French Bulldog
Puppies For Sale
Page 1 of 1 pages
REPARD
Contact :
Yvonne Draper
Location :
Banksia Park
SA
Email :
Send Email
I currently have 6 beautiful male and female brindle babies available. The babies will be Vet checked, DESEXED, vaccinated, microchipped and registered with DOGS SA on Limited Register, prior to going to their new home.
As I have been unwell, could you please email me explaining a bit about yourself and your lifestyle and I will endeavour to get back to you (please include a phone number). Please ensure that you have done your research into the breed and their specific requirements.
GENUINE ENQUIRIES ONLY, NO TIME WASTERS PLEASE.
Last updated 28-Jan-14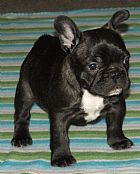 KEESWEY
Contact :
Murray Smithson
Location :
Kaiapoi
NZ
Ph :
033100624
Email :
Send Email
Keeswey French Bulldogs have 2 brindle male puppies 8 weeks old available from this Friday 14/02/14. They have been vet checked and had their first vaccination/wormed and micro chipped.
The Sire is Keeswey Just Communication and the Dam is Keeswey Triple Elegance. Both parents have NZ, Aust,USA,Canadian and African dogs in their lineage.These beautifully natured pups also have show potential.Photos on request, $3200.00 AU.
Murray & Cathy Smithson. Ph 03-3100624. Email flambeau@xtra.co.nz
Last updated 12-Feb-14
MATGO
Contact :
Barbara Loades (Matgo Shar Pei & French Bull Dogs)
Location :
Gawler.
SA
Ph :
08 85274112
Email :
Send Email
Web :
http://oz.dogs.net.au/chinesesharpei
A lovely natured brindle bitch 5 months of age,is being offered as a pet only. She has been vaccinated,microchip and also had her health check
She will be desexed before leaving for her loving home. Only serious buyers please.
Last updated 4-Mar-14
TUFSTEEN
Contact :
Paul and Mandy
Location :
Ross Creek
VIC
Email :
Send Email
Web :
http://www.tufsteenkennels.com
Expression of interest are been taken
We currently have some beautiful brindle males and females.
Please email for an enquiry form.
These pups are currently 4 weeks of age
"A certificate has been obtained from my vet that states in their opinion, microchipping the pups before 6 weeks of age would significantly prejudice their health."
Photo is from a previous litter.
Last updated 5-Mar-14
MITYANGU
Contact :
G. Robinson
Location :
Deception Bay
QLD
Ph :
1800586229
Email :
Send Email
Web :
http://www.mityangu.com
Meet Mona-Lisa. She is looking for a new home to call hers. She is looking for a very special family.
She knows you will look after her well, have a very well fenced yard with lots of shade as she is nice brindle and she can get hot. She likes it inside to watch TV and you must insure she has somewhere to play. She loves playing and being around other people and even those little people that look like her.
She is waiting for the right person or family for her to claim, not just anyone can have her as she knows if you're nice! No amount of money can simply buy her love.
She wants you to know that she is ready for her new home now as she was born on the 19th of December, making her 11 weeks old. She has her Micro-chipping and Limited Registered Papers come soon. She has her own puppy insurance for the first couple of weeks and her current personal Vet has checked her over giving her a big thumbs up. She has had her vac's and worming up to date.
Her current family bred her so you can meet Mum. Dads pictures and papers are available to view.
Unfortunately, she has a tail that is a little long so she will not quite make it in the show ring. While her current family loves her heaps, simply can't keep her due to a lack of room.
Asking $3500.
Last updated 8-Mar-14
Page 1 of 1 pages
* Disclaimer : The above puppy listing has been produced with information supplied in good faith by registered members of this site. Dogz Online Pty Ltd takes no responsibility for the accuracy of the information provided or the quality of any breeder listed. It is up to you as the prospective purchaser, to verify any claims made before entering into a transaction.

The use of the Blue Ribbon or Red Ribbon image against a listing should not be used as a symbol of a breeder's quality. The ribbon image is used purely to identify the membership level the breeder has paid for on the site.
All content copyright Dogz Online Pty Ltd © 2014
Privacy Policy | Web Site Terms and Conditions