Navigation >> Home >> Breed Community Pages >> Griffon Bruxellois >> Puppies for Sale
Griffon Bruxellois
Puppies For Sale
Page 1 of 1 pages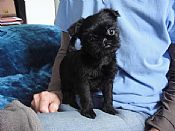 ZENTU
Contact :
Karen Baker
Location :
Gisborne
NZ
Ph :
0274359022
Email :
Send Email
I have gorgeous young puppies at present, available to go to fabulous homes in October,
One black rough girl - pictured,
One red rough girl,
and one red rough boy.
Pups are raised in the home, are well socialised, will be thoroughly vet checked and start vaccinations plus be micro chipped.
Feel free to enquire further for information and pictures.
Last updated 26-Sep-14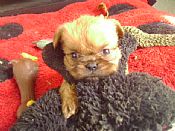 OASIS
Contact :
Rose Elle
Location :
Dannevirke
NZ
Ph :
06 3741777
Email :
Send Email
Web :
http://www.oasiskennel.com
Beautiful litter of red griffons. Tails docked & dew claws removed. Lovely natured parents. Pups home reared with love & attention. Contact me for more information
Last updated 25-Aug-14
GRIFFONSBURG
Contact :
Lois Mitchell
Location :
Narre Warren Nth
VIC
Ph :
0397086310
Email :
Send Email
7 month old, male, red rough Griffon Bruxellois puppy available.
'Griffonsburg Mr Lincoln'
Lincoln is fully vaccinated(C5), microchipped (956000003189345) and available to a pet home, preferably in Melbourne.
Griffon Bruxellois Club of Victoria member and Club Health Documents will be provided.
Call evenings after 6.30pm; 039708 6310
Last updated 17-Sep-14
Page 1 of 1 pages
* Disclaimer : The above puppy listing has been produced with information supplied in good faith by registered members of this site. Dogz Online Pty Ltd takes no responsibility for the accuracy of the information provided or the quality of any breeder listed. It is up to you as the prospective purchaser, to verify any claims made before entering into a transaction.

The use of the Blue Ribbon or Red Ribbon image against a listing should not be used as a symbol of a breeder's quality. The ribbon image is used purely to identify the membership level the breeder has paid for on the site.
All content copyright Dogz Online Pty Ltd © 2014
Privacy Policy | Web Site Terms and Conditions