Navigation >> Home >> Breed Community Pages >> Griffon Bruxellois >> Puppies for Sale
Griffon Bruxellois
Puppies For Sale
Page 1 of 1 pages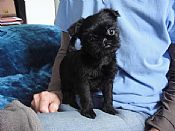 ZENTU
Contact :
Karen Baker
Location :
Gisborne
NZ
Ph :
0274359022
Email :
Send Email
I have gorgeous young puppies at present, available to go to fabulous homes in October/November,
One black rough girl - the girl pictured is sold,
One black rough boy,
One black and tan rough girl
and two red boys, one smooth, one rough.
Pups are raised in the home, are well socialised, will be thoroughly vet checked and start vaccinations plus be micro chipped.
Feel free to enquire further for information and pictures.
Last updated 14-Oct-14
CHAMLYN
Contact :
Lyn Chambers
Location :
Spreyton
TAS
Ph :
0364273393
Email :
Send Email
We have a very lovable little smooth red for sale. He will be wormed and vet checked. His first vaccination has been done and he has been microchipped also. He has been raised in our home with us and his litter mates. He is looking for his forever home and will be ready to go mid November. He will be ideal for an older couple or person or a stay at home person. Please feel free to call or email for more info.
Microchip No 982000362072153
Dam Tuiwood My Little Angel
Sire Nouveau Domingo
Last updated 26-Oct-14
ALWOOD
Contact :
Alana Sharp, Kimberly
Location :
Montrose, Melbourne
VIC
Ph :
0488 453 148, 0409 525 626(03) 9728 4667
Email :
Send Email
"SPROUT" is a red rough, 5 month old, mic-chip no 956000003743112 needing a loving home. He is a real sweety, loves other dogs, has been raised with children and a very large feline. "Sprout" is fully vaccinated, wormed regularly, Advocate monthly and will be de-sex and vet check.
Any inquires please email or call Kimberly 0409 525 626 as it can be difficult to contact me during the day.
Last updated 21-Oct-14
Page 1 of 1 pages
* Disclaimer : The above puppy listing has been produced with information supplied in good faith by registered members of this site. Dogz Online Pty Ltd takes no responsibility for the accuracy of the information provided or the quality of any breeder listed. It is up to you as the prospective purchaser, to verify any claims made before entering into a transaction.

The use of the Blue Ribbon or Red Ribbon image against a listing should not be used as a symbol of a breeder's quality. The ribbon image is used purely to identify the membership level the breeder has paid for on the site.
All content copyright Dogz Online Pty Ltd © 2014
Privacy Policy | Web Site Terms and Conditions