Navigation >> Home >> Breed Community Pages >> Griffon Bruxellois >> Puppies for Sale
Griffon Bruxellois
Puppies For Sale
Page 1 of 1 pages
Beware of buying from breeders listed on free classifieds sites like Gumtree and the Trading Post and also from pages on facebook.

Learn more about the latest scam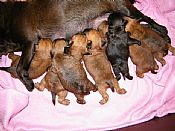 TUIWOOD
Contact :
Laura Richards
Location :
Pahiatua
NZ
Ph :
06 3766983
Email :
Send Email
We have beautiful red rough male & female pups available from an amazing litter of 9.
They will be ready to go from the 9th Dec.
Each pup will be vet checked, vaccinated, wormed and flea treated & come with 6 weeks free pet health insurance.
Last updated 4-Nov-14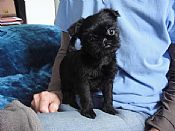 ZENTU
Contact :
Karen Baker
Location :
Gisborne
NZ
Ph :
0274359022
Email :
Send Email
I have gorgeous young puppies at present, only one available to go to a fabulous home in December,
Black rough girl.
Available for lovely homes in late January.
Black rough boy,
Red rough boys,
Black n tan roughs.
My puppies are raised with much love and receive the very best of care and gentle handling, they are well socialised, will be thoroughly vet checked and start vaccinations plus be micro chipped.
Feel free to enquire further for information and pictures.
Last updated 8-Dec-14
WATAGRIFFEN
Contact :
Graham Watson
Location :
Wodonga
VIC
Ph :
0419309120
Email :
Send Email
I have available to a Red Rough Female Griffon to the right home. She has a fantastic temperament and outgoing personality.
Shehas been well socialized with kids, cats, other dogs large and small.
She is De-sexed, vaccinated, micro chipped, health checked and comes with puppy starter pack.
Microchip number: 982 0003629462
I am also taking expressions of interest for Red and Black pups that will be potentially available shortly.
Last updated 16-Dec-14
Page 1 of 1 pages
* Disclaimer : The above puppy listing has been produced with information supplied in good faith by registered members of this site. Dogz Online Pty Ltd takes no responsibility for the accuracy of the information provided or the quality of any breeder listed. It is up to you as the prospective purchaser, to verify any claims made before entering into a transaction.

The use of the Blue Ribbon or Red Ribbon image against a listing should not be used as a symbol of a breeder's quality. The ribbon image is used purely to identify the membership level the breeder has paid for on the site.
All content copyright Dogz Online Pty Ltd © 2014
Privacy Policy | Web Site Terms and Conditions