Navigation >> Home >> Breed Community Pages >> Griffon Bruxellois >> Puppies for Sale
Griffon Bruxellois
Puppies For Sale
NAGPUNI
Contact :
Terri Odell
Location :
Glenhaven
NSW
Ph :
02 9894 1440
Email :
Send Email
Web :
http://www.thegriffonbruxellois.com.au
NAGPUNI
Contact: Terri Odell
Location: Glenhaven
Ph: 02 9894 4223
Email: terri@petsonthepark.com.au
Website:www.thegriffonbruxellois.com.au
We have a beautiful boy pup born 10/2/13 & a very talented girl born 28/10/12. The boy has a gorgeous nature & is very friendly & wags his tail so much. The girl has been doing obedience classes as well as doggie tricks & Doggie Dancing & is a star pupil. We only want the best of homes for our puppies, so only Griffon fanatics need apply. The mother of the boy is Ch Nagpuni Brooklyn Babe CCD RN. Brooklyn is the first Griffon to achieve a Rally O title in Australia & has also achieved her CCD in Obedience which is a fantastic achievement for a Griffon. I'm sure these puppies will do well at whatever sport they may take on.
They have been vet checked,vaccinated, registered & micro chipped.
Last updated 1-May-13
LAURENAGH
Contact :
Ros Fraser
Location :
Gisborne
VIC
Ph :
0407567986
Email :
Send Email
We have 2 black,smooth female puppies for sale!Happy little girls who are very social.These babies are vaccinated, microchipped and will be desexed prior to leaving home!M.C 956000008874108.M.C956000008872735. All enquiries welcome.0407567986
Last updated 12-Apr-13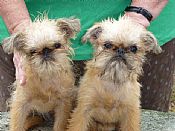 HYJINX
Contact :
Andrea Jenkins
Location :
Gisborne
NZ
Ph :
06 8678882
Email :
Send Email
Beautiful healthy, Griffon babies wanting forever homes. Fully vaccinated and health checked, ready for their new homes.
Last updated 30-Apr-13
ZENTU
Contact :
Karen Baker
Location :
Gisborne
NZ
Ph :
0274359022
Email :
Send Email
I have new puppies available for loving homes.
There are black and tan, solid black and red puppies too.
Some are smooth and some roughcoat.
Pups have not been docked and can be registered.
Feel free to email me for pictures.
Enquiries are welcome.
Last updated 21-May-13
Page 1 of 1 pages
* Disclaimer : The above puppy listing has been produced with information supplied in good faith by registered members of this site. Dogz Online Pty Ltd takes no responsibility for the accuracy of the information provided or the quality of any breeder listed. It is up to you as the prospective purchaser, to verify any claims made before entering into a transaction.

The use of the Blue Ribbon or Red Ribbon image against a listing should not be used as a symbol of a breeder's quality. The ribbon image is used purely to identify the membership level the breeder has paid for on the site.
All content copyright Dogz Online Pty Ltd © 2013
Privacy Policy | Web Site Terms and Conditions