Navigation >> Home >> Breed Community Pages >> Airedale Terrier >> Puppies for Sale
Airedale Terrier
Puppies For Sale
Page 1 of 1 pages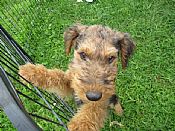 PLAUDIT
Contact :
Janice Parr & David Price
Location :
Mangawhai
NZ
Ph :
027 2791357
Email :
Send Email
We have Pups due early March (confirmed by scan) and taking enquiries now.
All our Airedale puppies are reared inside/outside, well socialised and exposed to daily living, e.g. TV, vacuum, human activity/noise/attention.
For our Australian Airedale friends the cost of a Airedale pup landed in Melbourne, Sydney, Brisbane airport would be approx. A$3,000. Note: This litter will be docked.
Phone enquiries / visits to Mangawhai welcome.
Phone Janice 09 431 3012. Email aire-dale@ihug.co.nz
Airedales being our passion we have bred and shown top winning Airedales for over 35 years and provide back up / help with grooming / support as required.
Temperament and soundness being our focus always.
Last updated 7-Feb-15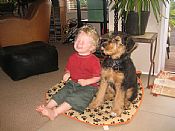 BUCKSHOT
Contact :
Rose Prangley
Location :
Waikato
NZ
Ph :
07 8831318
Email :
Send Email
Dom "AM CH Traymar's The Dominator" and Rye "Buckshot Tiger Lily" presented us 10 puppies on 23/1/15.Both parents are hip scored.
Good temperament ,soundness and good health are a priority in breeding my puppies.
Last updated 28-Jan-15
CLYDEBROOK
Contact :
Bob and Nessie Brooks
Location :
Georges Creek
VIC
Ph :
0260725481
Email :
Send Email
Web :
http://www.clydebrook.com.au
We are expecting pups Mid-March from our Airedale girl Mamie (Clydebrook Mistletoe MagicIMP UK). Sire is Ch Old Iron Trivial Pursuit (Quiz). Pups will be vet checked, preliminarily vaccinated and microchipped before leaving for their new homes around the age of 8 weeks. We have a certification from our vet which states that it would be detrimental to the pups' health to have them microchipped before the age of 6 weeks. Please check our website www.clydebrook.com.au for further information regarding Mamie's litter.
Last updated 19-Feb-15
YELOMAN
Contact :
Suzanne Tennant
Location :
Gippsland
VIC
Ph :
0428661997
Email :
Send Email
Web :
http://www.yelomanairedales.com
The beautiful 'chocolate and Christo ( Imp USA) have produced lovely puppies .Ready to go to their new homes around Easter, the perfect time to spend quality time with your new baby.
Please contact me yeloman.airedales@bigpond.com OR 0428661997
for more information .
All pups are vet checked, vaccinated, microchipped, wormed and registered with the Australian National Kennel Council.
All our dogs are fed a natural diet to insure that all the puppies get the best possible start in life.
We provide a 'menu' for growing puppies and for adult dogs and are always available to provide you with help and support throughout your dogs life.
We have a letter from our vet that states that in his opinion it would not be safe to microchip these Airedale puppies before 6 weeks of age.
Last updated 17-Feb-15
Page 1 of 1 pages
* Disclaimer : The above puppy listing has been produced with information supplied in good faith by registered members of this site. Dogz Online Pty Ltd takes no responsibility for the accuracy of the information provided or the quality of any breeder listed. It is up to you as the prospective purchaser, to verify any claims made before entering into a transaction.

The use of the Blue Ribbon or Red Ribbon image against a listing should not be used as a symbol of a breeder's quality. The ribbon image is used purely to identify the membership level the breeder has paid for on the site.
All content copyright Dogz Online Pty Ltd © 2015
Privacy Policy | Web Site Terms and Conditions