Navigation >> Home >> Breed Community Pages >> Airedale Terrier >> Puppies for Sale
Airedale Terrier
Puppies For Sale
Please take the time to visit the website of the
Airedale Terrier Club of Victoria Inc or the
Airedale Terrier Association of NSW
where you will find lots of helpful information regarding Airedale Terriers and choosing a breeder.
Page 1 of 1 pages
CHLOEAIRES
Contact :
Diana Kasal
Location :
Geelong
VIC
Ph :
0429113369
Email :
Send Email
We are proud to announce the arrival of 10 healthy and thriving puppies on the 17th July 2015. 4 males and 6 females.
Chloeaires Cesky Apple (Dam)"Apple" and Tjuringa Apollo (Sire) "Hunter". This is Apple's first litter and she has taken to the role of mothering beautifully. She has followed in her big sister's footsteps - Red who had her first litter last year gave us outstanding pups in both physical quality but most importantly in temperament.
All our pups are brought up in our home and exposed to many of the familiar sounds and experiences of family life. We are proud of the quality of pups we raise for our families and are known for the excellent temperaments our puppies display.
Please contact me for additional information or to register your interest.
NB - all puppies wormed regularly vac and m/chipped at 6-7 weeks of age. Our pups have 2 vet health checks prior to going home. We have a letter from our vet stating m/chipping prior to 6 weeks of age would be detrimental to the well being of the puppy.
PHOTO is of Elsa at 7mth old from Red's previous litter (Apple's sister)
Last updated 4-Aug-15
TJURINGA
Contact :
Keith and Patricia Lovell
Location :
Darnum (Warragul)
VIC
Ph :
(03)56278110
Email :
Send Email
Web :
http://www.dogs.net.au/airedale
We are so excited to announce that Australian Champion Tjuringa Miss Marple (Australia's No One Airedale Terrier 2014 and Royal Melbourne Show Best Airedale bitch 2013) is expecting a litter in late September.
She has been mated to Tjuringa Quite The Guy who's international breeding is unprecedented in Australia. Guy is sired by International Champion Katherina's Land Quite So; the first Estonian Airedale to sire a litter in this country, an English Champion and Champion of many countries in Scandinavia and Europe; we would argue possibly the best male Airedale in the world at his prime.
Marple when shown around Australia in her prime astounded in her success that included all breed Bests in Show and Roayal Melbourne Show best Airedale female. However, above all, these two beautiful Airedales are wonderful family pets who guard our property and play with our family. The puppies will be micro chipped at 6 weeks, immunized, vet checked and temperament assessed before sale at 8 weeks at the end of November. We are delighted to advise the both sire and dam have hip score assessments below breed average.
Last updated 21-Sep-15
ANNIEAIRE
Contact :
Kate McFarlane
Location :
Bung Bong
VIC
Ph :
0412 713 479
Email :
Send Email
Archie and Lolly have welcomed their very first litter of 8 little puppies. The litter was born on the 24th July and will be ready to go from the 17th September.
All pups will be vet checked, microchipped, wormed, vaccinated and registered with Dogs Victoria before going to their forever homes.
MICROCHIP NO: 978101081491367, 978101081492486, 978101081491440, 978101081495905, 978101081495233, 978101081491027, 978101081495571, 978101081491581
Last updated 4-Sep-15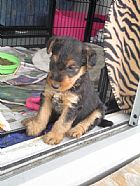 PLAUDIT
Contact :
Janice Parr & David Price
Location :
Mangawhai
NZ
Ph :
027 2791357
Email :
Send Email
Puppies born 24/09/15, will be ready to go to their new homes around 19/11/15. We welcome enquiries and visits.
Biddi - Kellydale Country Girl was bred to Matrasen Rough Diamond(imp UK). The puppies and Mum can be viewed in Mangawhai. We only sell to fenced and inside homes and asking $1,800 for a NZKC registered puppy.
These pups will not be docked.
Janice and David
Plaudit Airedales
Last updated 24-Sep-15
Page 1 of 1 pages
* Disclaimer : The above puppy listing has been produced with information supplied in good faith by registered members of this site. Dogz Online Pty Ltd takes no responsibility for the accuracy of the information provided or the quality of any breeder listed. It is up to you as the prospective purchaser, to verify any claims made before entering into a transaction.

The use of the Blue Ribbon or Red Ribbon image against a listing should not be used as a symbol of a breeder's quality. The ribbon image is used purely to identify the membership level the breeder has paid for on the site.
All content copyright Dogz Online Pty Ltd © 2015
Privacy Policy | Web Site Terms and Conditions