Navigation >> Home >> Breed Community Pages >> Airedale Terrier >> Puppies for Sale
Airedale Terrier
Puppies For Sale
Page 1 of 1 pages
Beware of buying from breeders listed on free classifieds sites like Gumtree and the Trading Post and also from pages on facebook.

Learn more about the latest scam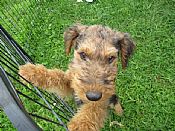 PLAUDIT
Contact :
Janice Parr & David Price
Location :
Mangawhai
NZ
Ph :
027 2791357
Email :
Send Email
Web :
http://www.plaudit-topterriers.com
We have Pups due mid January and taking enquiries now.
All our Airedale puppies are reared inside/outside, well socialised and exposed to daily living, e.g. TV, vacuum, human activity/noise/attention. Note: this litter will not be docked as some pups are going to Australia.
Phone enquiries / visits to Mangawhai welcome.
Phone Janice 09 431 3012. Email aire-dale@ihug.co.nz
Airedales being our passion we have bred and shown top winning Airedales for over 35 years and provide back up / help with grooming / support as required.
Temperament and soundness being our focus always.
Last updated 23-Nov-14
Page 1 of 1 pages
* Disclaimer : The above puppy listing has been produced with information supplied in good faith by registered members of this site. Dogz Online Pty Ltd takes no responsibility for the accuracy of the information provided or the quality of any breeder listed. It is up to you as the prospective purchaser, to verify any claims made before entering into a transaction.

The use of the Blue Ribbon or Red Ribbon image against a listing should not be used as a symbol of a breeder's quality. The ribbon image is used purely to identify the membership level the breeder has paid for on the site.
All content copyright Dogz Online Pty Ltd © 2014
Privacy Policy | Web Site Terms and Conditions