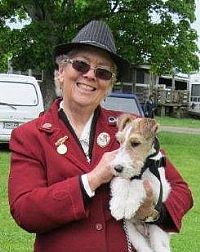 Judge Name : Mrs Linda Strongman (New Zealand)
Please visit the Dogs NZ web site for contact details for this judge.
NZKC Group(s)
CH - Championship Show Status
Best in
Show
Group 1
Toys
Group 2
Terriers
Group 3
Gundogs
Group 4
Hounds
Group 5
Working
Group 6
Utility
Group 7
Non-Sporting
YES
CH
CH
CH
CH
CH
CH
CH
NZKC All BREEDS JUDGE..& JDH.

I have been involved with dogs all my life.
Have shown/handled,bred & owned several breeds. Including Bedlington Terriers, Airedale Terriers. Boston Terriers. Pomeranian & Whippet.
I am owned by Fox Terriers Wire & smooth & Norwich Trs.
co-owner with my daughter Am Cocker Spaniels.
Life member of Huntly & Districts K.A.
Vice Chair of Waikato District Judges Assn
Chair Region 2 of the NZDJA.
On the National board of NZDJA.
Judging Appointments (Australia and NZ Only)
Appointments are based on shows entered in our system since 2012. Please inform us of any errors.
| | | |
| --- | --- | --- |
| 21-Mar-21 | Napier Kennel Centre (Show 1) (NZ) | Group 5 & General Specials |
| 21-Mar-21 | Napier Kennel Centre (Show 2) (NZ) | Group 3 |
| 20-Mar-21 | Wairoa Kennel Association (Show 1) (NZ) | Group 7 |
| 20-Mar-21 | Wairoa Kennel Association (Show 2) (NZ) | Group 1, 2 |
| 6-Dec-20 | South Otago Kennel Association (Show 1) (NZ) | Group 1, 5 |
| 6-Dec-20 | South Otago Kennel Association (Show 2) (NZ) | Group 2, 3 |
| 5-Dec-20 | Southern Ladies Kennel Association (Show 1) (NZ) | Group 4 |
| 5-Dec-20 | Southern Ladies Kennel Association (Show 2) (NZ) | Group 6, 7 & General Specials |
| 10-Oct-20 | Kumeu Kennel Association (Show 1) (NZ) | Group 7 |
| 10-Oct-20 | Kumeu Kennel Association (Show 2) (NZ) | Group 1, 2 & General Specials |
| 28-Sep-19 | Auckland Provincial Samoyed Association (NZ) | General Specials |
| 6-Apr-19 | Cambridge Kennel Association (BENEFIT SHOW) (Show 2) (NZ) | Group 1, 5 & General Specials |
| 1-Oct-18 | The Adelaide Hills Kennel Club Inc (SA) | Group 6 |
| 30-Sep-18 | The Adelaide Hills Kennel Club Inc (SA) | Group 1 |
| 29-Sep-18 | The Adelaide Hills Kennel Club Inc (SA) | Group 7 |
| 28-Sep-18 | The Adelaide Hills Kennel Club Inc (SA) | Group 4 |
| 5-Aug-18 | Upper Hutt Kennel Association (SHOW 1) (NZ) | Group 2 |
| 5-Aug-18 | Upper Hutt Kennel Association (SHOW 2) (NZ) | Group 3 |
| 4-Aug-18 | Pencarrow Kennel Association (AM SHOW) (NZ) | Group 1 |
| 4-Aug-18 | Pencarrow Kennel Association (PM SHOW) (NZ) | Group 6 |
| 18-Mar-18 | Buller Kennel Association (SHOW 2) (NZ) | Group 2, 4, 5 |
| 17-Mar-18 | Buller Kennel Association (SHOW 1) (NZ) | Group 1, 3, 6, 7 & General Specials |
| 11-Nov-17 | Grounds Committee Zone 2 Amenities (AM SHOW) (QLD) | Group 3, 6 |
| 11-Nov-17 | Grounds Committee Zone 2 Amenities (PM SHOW) (QLD) | Group 5, 7 & General Specials |
| 10-Nov-17 | Grounds Committee Zone 2 Amenities (QLD) | Group 1, 2 |
| 30-Apr-17 | Gunnedah & District Kennel Club Inc (NSW) | Group 2, 7 |
| 29-Apr-17 | Gunnedah & District Kennel Club Inc (NSW) | Group 1 |
| 28-Apr-17 | Gunnedah & District Kennel Club Inc (NSW) | Group 4, 5 |
| 12-Mar-17 | Canberra All Breeds Kennel Club Inc (ACT) | Group 1, 5 |
| 11-Mar-17 | Canberra All Breeds Kennel Club Inc (AM Show) (ACT) | Group 4 |
| 11-Mar-17 | Canberra All Breeds Kennel Club Inc (PM Show) (ACT) | Group 6 |
| 10-Mar-17 | Canberra All Breeds Kennel Club Inc (ACT) | Group 3 & General Specials |
| 6-Mar-17 | The Royal Canin Western Classic (WA) | Group 1, 6 |
| 4-Mar-17 | The Royal Canin Dogs West Classic (WA) | Group 3, 7 |
| 20-Nov-16 | Waimate Kennel Society (NZ) | Group 3, 5, 7 & General Specials |
| 19-Nov-16 | Waimate Kennel Society (NZ) | Group 1, 2, 4, 6 |
| 6-Nov-16 | Poverty Bay Kennel Association (NZ) | Group 1, 2, 7 & General Specials |
| 5-Nov-16 | Poverty Bay Kennel Association (NZ) | Group 3, 4, 5 |
| 18-Sep-16 | Bay of Islands Canine Association (SHOW 2) (NZ) | Group 1, 2, 3, 6 & General Specials |
| 17-Sep-16 | Bay of Islands Canine Association (SHOW 1) (NZ) | Group 4, 5, 7 |
| 28-Aug-16 | Sale-Maffra Kennel Club Inc (VIC) | Group 3 |
| 27-Aug-16 | Macalister Kennel & Obedience Club Inc (VIC) | Group 5 |
| 26-Aug-16 | Macalister Kennel & Obedience Club Inc (VIC) | Group 1 |
| 24-Jul-16 | Tasmanian Kennel Club Inc (TAS) | Group 1, 7 & General Specials |
| 23-Jul-16 | Tasmanian Kennel Club Inc (TAS) | Group 2, 3, 4 |
| 15-May-16 | Ladies Kennel Association of NSW (GOLD SHOW) (NSW) | Group 1 & General Specials |
| 23-Apr-16 | Manawatu Kennel Association (SHOW 1) (NZ) | Group 1, 4, 6 & General Specials |
| 9-Apr-16 | Huntly & District Kennel Association (Benefit Show) (NZ) | General Specials |
| 17-May-15 | Marlborough Kennel Association (NZ) | Group 3 |
| 16-May-15 | Marlborough Kennel Association (AM SHOW) (NZ) | Group 1 |
| 16-May-15 | Marlborough Kennel Association (PM SHOW) (NZ) | Group 2, 4 |
| 7-Mar-15 | Ladies Kennel Club of SA Inc (SHOW 1) (SA) | Group 4 |
| 7-Mar-15 | Ladies Kennel Club of SA Inc (SHOW 2) (SA) | Group 7 |
| 6-Mar-15 | Ladies Kennel Club of SA Inc (SA) | Group 2 |
| 26-Oct-14 | Combined Breeds Dog Club (TAS) | Group 1, 4 |
| 6-Jun-14 | West Gippsland Kennel Association Inc (AM Show) (VIC) | Group 4 |
| 6-Jun-14 | West Gippsland Kennel Association Inc (PM Show) (VIC) | Group 2 |
| 1-Jun-14 | Wellington Kennel Centre (GOLD SHOW) (NZ) | Group 5 |
| 1-Jun-14 | Wellington Kennel Centre (PLATINUM SHOW) (NZ) | Group 2, 7 |
| 4-Aug-13 | Canterbury Kennel Assn Inc (NZ) | Group 5 |
| 8-Jun-13 | NZKC Auckland Benefit Show (NZ) | Group 1 |
| 1-Jun-13 | St George District Kennel Club (NSW) | Group 2 |
| 10-Feb-13 | Tokoroa Canine Associoation (NZ) | Group 5 |
| 18-Nov-12 | Wairarapa Kennel Association (NZ) | Group 4 |
| 17-Nov-12 | Wairarapa Kennel Association (AM) (NZ) | Group 7 |
| 17-Nov-12 | Wairarapa Kennel Association (PM) (NZ) | Group 1 |